Svenska PC Gamer Rikard Olsson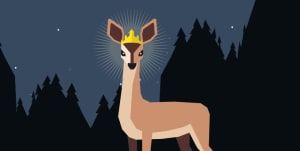 Salve Regina!
Som redaktionens stora Reigns-fantast är det med stor glädje jag kan förkunna att dess uppföljare Reigns: Her Majesty kommer att släppas redan den 7e december.
Konceptet bakom Reigns är lika enkelt som det är briljant. I grunden är det ett strategiskt rollspel med roguelike-element där du är regent för ett kungadöme och måste fatta en serie beslut som påverkar ditt rike på olika sätt. Twisten är att varje beslut kommer i formen av ett slumpmässigt kort, där du swipear vänster eller höger beroende på vilket binärt val du vill göra. Monarki via Tinder, typ.
Det gäller att hålla sig populär med kyrkan, folket, armén och banken, vilket blir en balansakt av nåde när varje beslut har negativa och positiva konsekvenser för olika grupper. Blir du för illa omtyckt av en grupp så kommer de inte tänka två gånger om att avsätta dig.
Her Majesty tycks följa ungefär samma format, men den här gången spelar du som en drottning och nu har du även ett inventory där du kan samla föremål för senare bruk. Nytt för den här gången är även att journalisten Leigh Alexander klivit in i rollen som narrativ-designer.
Om du fortfarande inte är såld så kolla in lite gameplay i den här nya trailern:
App Store | Google Play | Steam – December 7 http://reignsgame.com Reigns: Her Majesty is the revolutionary follow-up to the smash swipe 'em up hit Reigns. A cultural renaissance has bestowed the world with a new era of knowledge and enlightenment but greed and jealousy still conspire against the benevolent queen.
Inlägget Reigns: Her Majesty tillträder tronen nästa månad dök först upp på Svenska PC Gamer.